Walking and hiking tours
Difficulty: Easy
Achen Mariathal loop
Pleasant looped trail along the Brandenberg stream with special spots to pause for a break
The short circular trail starts in Kramsach village centre. After a few minutes you already reach the Kneipp facilities. A nice place to connect with your inner self and take the first short break. Continue past the tennis court and to the left along the river, past the Mariathal Basilica - stop and have a peep inside - to a large bridge. The next highlight - directly after the wooden bridge - is the sculpture park. This exceptional open-air exhibition space is an absoloute must! The path leads over a bridge back to the Sonnwendjochbahn (defunct chairlift) car park. Somewhat further down the road is the entrance to the fitness mile. A nice path leads through the woods. Decide for yourself, raise your pulse on one of the fitness equipments or lose your sight in the high treetops. Back at the tennis centre, the route follows the river and leads back to the starting point.
There are several places to stop for a bite and something to drink along the route, such as the Gasthaus Mariathal right next to the basilica, Liftstüberl Kramsach next to the fitness mile, Hotel Jagdhof or the Tennis-Pool-Arena at the tennis centre.
Author's recommendation
Kramsach stream weir/trash rack:
Dating back to the days when wood was drifted down the Brandenberg stream the area near the Kramsach tennis hall has been landscaped to attract water lovers to bathe and linger by the water. Some parts of the former rack structure still remain.
Sculpture park:
The trail leads past the Kramsach sculpture park, an impressive outdoor exhibition site appreciated by art lovers. The exhibited works are made by the well-known Kramsach artist and Gironcoli-pupil Alois Schild. His sculptures are distributed over an 8000m² large site and resemble strange creatures.
Mariathal Basilica:
The catholic pilgrimage church is a wonderful example of baroque building style. The interior is characteristically kept in the colours black and gold. The Way of the Cross along the old monastery walls leads up to the Kalvarienberg. The 12 artistic representations were designed by Birgit Riedel.
Directions
From the Gemeindeamt (local municipality) Kramsach – along the stream to the Kneipp facility – tennis centre – weir/trash rack – to the left of the steam to the Mariathal Basilica – skulpture park – cross the wooden bridge to the right – Sport Ossi – through the woods at the fitness mile – kinder garten – at the tennis centre follow the stream back to the Gemeindeamt
Author
Alpbachtal Tourismus
Details
| | |
| --- | --- |
| Max. Altitude | 546 |
| Start | Kramsach centre |
| End | Kramsach centre |
| Public access | A12, motorway exit Kramsach, towards Kramsach centre |
| Public transport | Kramsach Gemeindeamt bus stop |
| Parking | Free parking at the starting point at the gravelled car park next to the primary school (Volksschule Kramsach). Parking at Gemeindeamt Kramsach - short term parking zone (max. 90 Minuten) - is also free of charge. |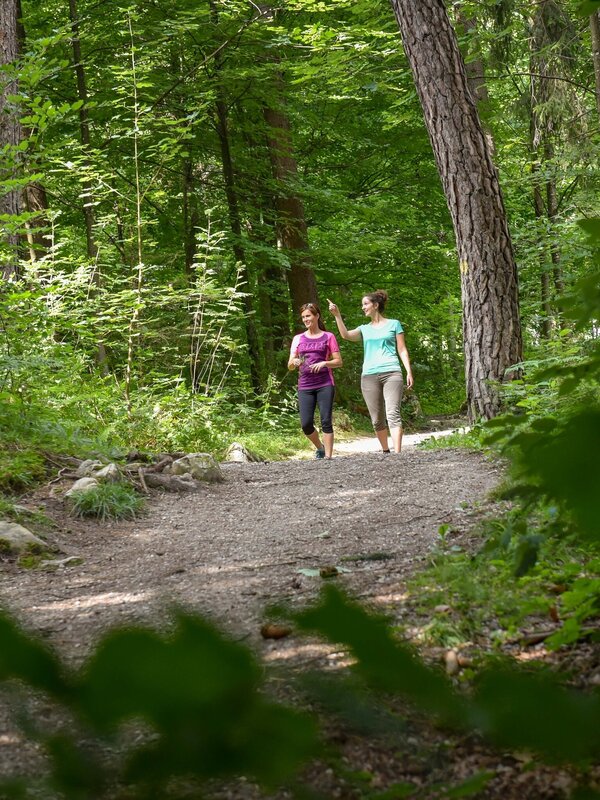 Tips for you
Good to know
There's more!
Similar tours