NATURAL GEM - POWER PLACE - ROMANTIC IDYLL
Lake Berglsteinersee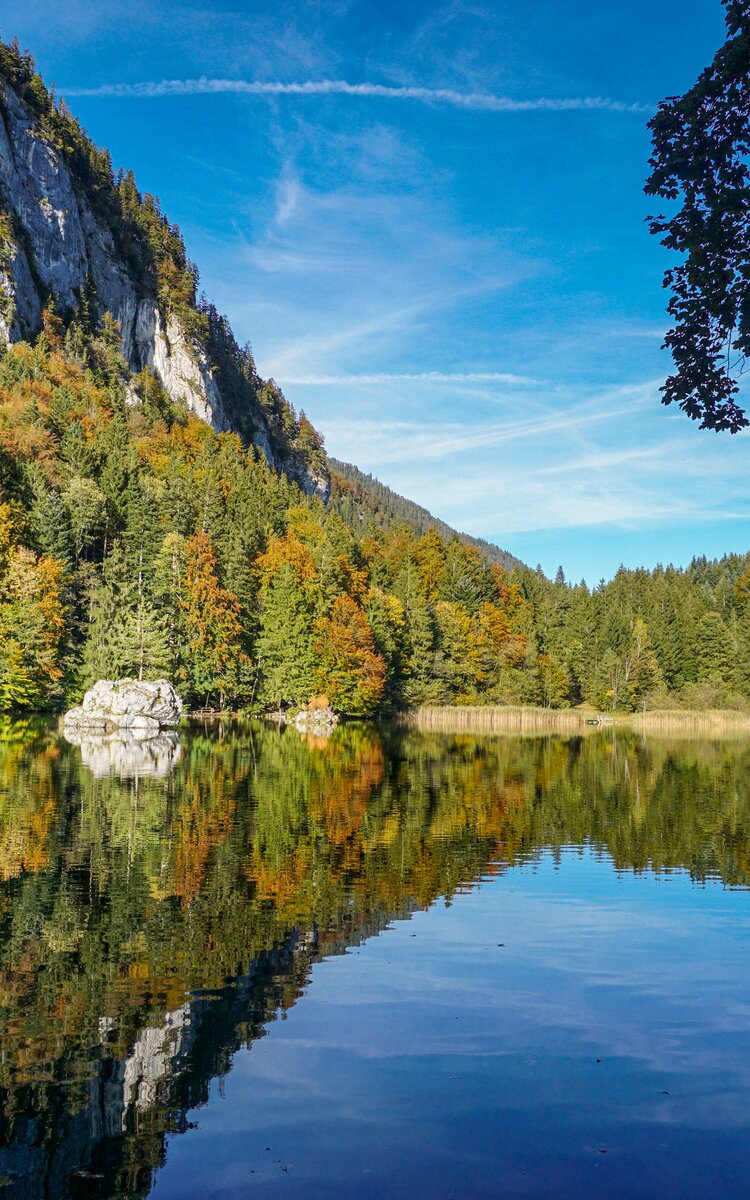 Beautifully natural: Lake Berglsteinersee
Surrounded by forests and mountains at the foot of the ruins of Gückenbühl Castle (Schindlburg ruins), unspoilt Lake Berglsteinersee is a real insider tip for those seeking tranquillity. It is the ideal place to break free from stressful everyday life and recharge your batteries amidst nature. Whether in the summer months or snow-covered winter – Lake Berglsteinersee and the surrounding landscape with their impressive displays of colours are worth a visit at any time of year. Allow yourself to unwind and see what effect nature has on your senses! That's what we call relaxation in the Alpbachtal Valley.

Good to know: Kept untouched and due to its reed belt, Lake Berglsteinersee can get a bit boggy. But those who don't mind mud between their toes can enjoy a refreshing dip in the lake in the summer months.
Covering ​​2.6 ha, Lake Berglstein is not one of Tirol's largest lakes, but certainly one of its most picturesque. There are a number of romantic spots that invite you to relax on the shores of the lake. And after you have enjoyed some time out together in nature you can tuck into local delicacies at the Berglsteinersee 712er Lounge, right by the water.
to the lake restaurant
Easy walks in every season
In addition to being a place to unwind and enjoy, Lake Berglstein is also a stop-off point or the goal of many easy walks. Its ideal location between Kramsach and Breitenbach am Inn promises tranquil seclusion on the untouched south-facing slope of the Voldöpperspitze. F
rom the car park, you hike along the "Leichter-Lernen-Wanderweg" (Easy Learning Trail), where you can improve your learning and concentration skills with the help of a total of 12 exercise boards.
More details
To get to the Berglsteinersee, it is best to park at the Reintalersee East car park. From there, a path leads you to the lake. You can reach the Lake Berglsteinersee easily in 30 minutes on the wide forest path, which is also suitable for prams.
And then you have already arrived at the idyllic natural jewel of Berglsteinersee ... time to relax!
Travel back in time
Museum of Tirolean Farmhouses
Want to spend even more time in the beautiful countryside? Then pay a visit to Tirol's largest open-air museum where you can embark on a fascinating stroll through the farming life of the past. On the 3.2 km circular trail you will learn about how lumberjacks transported huge tree trunks from the mountains down to the valley via rushing streams and rivers, listen to tales of old Tirolean legends and feel history come alive along fun educational trails.
More about the Museum