Alpbach Flour mill in the Weikartgraben
The water-powered grain mill on the mittlerer Höhenweg leading from Alpbach to Inneralpbach was lovingly restored by the Club Alpbach for European Culture.
Tip: buy some freshly milled flour!
In the summer months the mill and Brechelstube are open to the public every third Saturday (see weekly programme).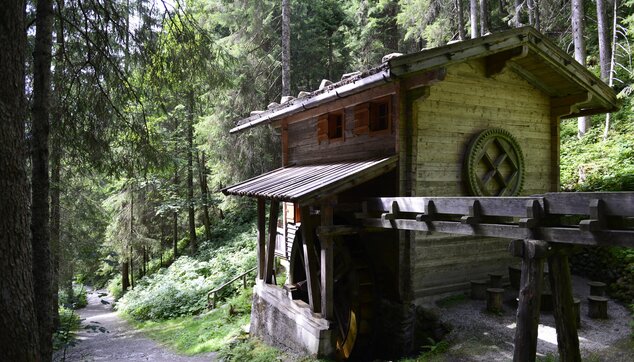 A few decades ago there were still around 25 wtaer operated mills in the Alpbachtal. Local farmers could grind their flour at these mills. The only remaining mill is the "Stettauer Mill", now known as the Weikart Mill because it is located in the Weikart valley on the "Höhenweg" between Alpbach and Inneralpbach.
The mill was reconstructed and rebuilt on remains of the original foundations by the Alpbach Club for European Culture, with the support of the Alpbach municipality. In the summer months the mill is open to the public every third Saturday, when flour is ground in the mill as in the past.
The leisurely year-round hike starts at the Alpbach local council. Cross the Mühlbach Bridge and take the Mittlerer Höhenweg past the beautiful Kramerhof farm. Head towards Inneralpbach, passing the idyllically situated Weikartmühle mill.
For flour milling days please see the notice board. Visit the Brechelstube with a film presentation about linen production! The Brechelstube was used to scrutch flax, to break the stalks. After much further processing, the inner fibre was woven into linen!
"Flour samples" can be taken home. Both buildings are located on the Mittlerer Höhenweg between Alpbach and Inneralpbach!
Groups on request!
Opening hours
Please see the weekly programme for opening hours.
For group visits please contact Hansjörg Lederer.

Closed in winter!
Contact
Club Alpbach für Europäische Kultur
Hansjörg Lederer
Alpbach 222
6236 Alpbach