Gasthof Herrnhaus
1 Gault Millau toque family run restaurant in the centre of Brixlegg renowned for venison specialities.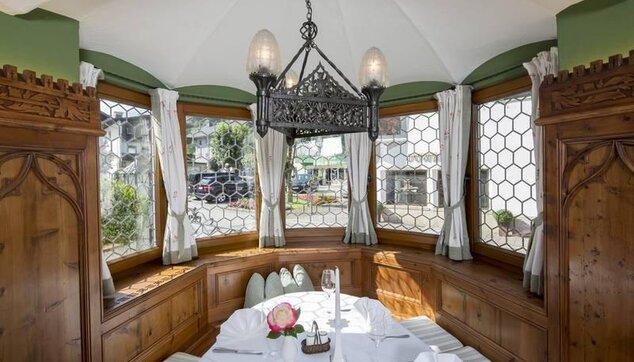 Restaurant Herrnnhaus -  awarded 1 Gault Millau toque
The Herrnhaus played an important role throughout Brixlegg's 1200-year history. In the days of the former "Hammerherren", who ruled during the prosperous heyday of the Tyrolean mining era the Herrnhaus had an excellent reputation. Andreas Hofer, leader of the Tyrolean Rebellion against the Napoleonic and Bavarian invasion, also stopped by in those times to rally his "insurgents" around him.
The Moigg family invite you to their traditional family inn with beautiful antique parlours and cosy guest garden in the centre of Brixlegg. The pleasant atmosphere of the restaurant reflects the close ties of the family, a place of well-being and relaxation. Enjoy traditional, modern and creative cuisine in one of the inviting dining areas. Christian Moigg, his son Lukas Moigg and Simon Huter are enthusiastic hunters, the game from their hunt is one of the specialities of the house. The regionality and quality of the meat becomes apparent in the delicious dishes of the kitchen and is an important part of the culinary experience. In the natural garden of the Herrhaus, Christian's wife Sandra Moigg grows herbs and vegetables for the kitchen and flowers for decorating the lovingly decorated tables.
Wine is also provided for! The wine cellar and newly built white wine cabinet stock over 180 Austrian and international wines. Sommelier Maximilian Moigg will be happy to help you choose the right wine for your ideal taste experience.
Opening hours
Restaurant open for lunch and dinner from 11:30 a.m. - 02:00 p.m. & 05:00 - 9:00 p.m.
Contact
Gasthof Hernhaus KG
Herrnhausplatz 1
6230 Brixlegg